Marco Leonetti Hair of the Don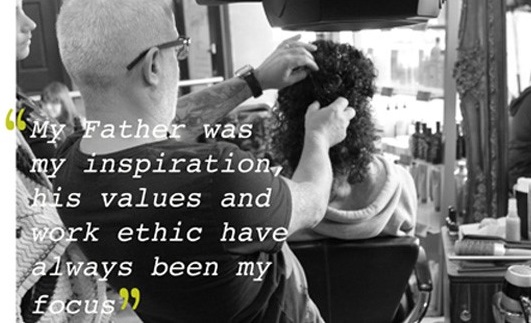 Celebrating 36 years in the business this year. Marco tells us about his extensive career in hairdressing, his favourite hair looks for this Christmas and his experience doing the hair artistry for our 'Opulent Couture' photo shoot for Gallery Magazine.
What inspired you to follow hairdressing as a career?
My father
What training did you do to acheive such a high reputation as a hair stylist?
I trained in the local college and was awarded 'Student of the Year in Great Britain' in 1977. I spent time in London and opened my first salon in 1979 aged 19.
With two Utopia salons located on Central Promenade and Walpole avenue on the Isle of Man how do you manage work with family life?
By having a very understanding wife and a fantastic team of loyal staff.
How have you found such a great team of employees? Are there certain qualities you look for in your staff? 
By treating nice people as individuals and massive amounts of flexibility!
Who is your main inspiration and why? 
My father was my inspiration, his values and work ethic have always been my focus.
When did you first meet Claire Christian? How has your relationship with Claire Christian Couture deveoloped since your first Fashion Show together?
I met Claire when she returned from London and we share 'professionalism and excellence' so its easy to work together.
What are your current favourite products and why?
Kerastase, the products ooze quality and are very affordable.
When you received the 'Opulent Couture' brief from Claire, how did you acheive the hairstyles you created?
To acheive the look we first coated Chloe's hair to ALTERNA anti-frizz cream from the Bamboo range, then we sit dried it in order not to disturb the natural ringlets. Finally we moulded the hair into the shape you see on camera. Having Chloe and Rachel as models helped greatly as the look required elegance and beauty, which I believed we achieved, and they are fantastic looking ladies with fabulous hair.
What treatments did you use on Chloes natural curls during the days before the shoot, to acheive such a luxurious style on the day?
I used 'Discipline Anti Frizz Kerastase Treatment' and several moisture masques helped greatly to prepare Chloe's hair for the day.
Natalie Ward, one of your Junior Stylists at the Walpole Avenue salon styled Rachel's hair; what made Natalie stand out as a promising stylist, and how have you helped train her into such a talented hairdresser?
Natalie is one the most talented young stylists that I have had the pleasure to train. She has a pasison for her hairdressing and passion is the single element needed to stand out.
For the 'Opulent Couture' Photo Shoot, your incredible hairstyles needed to last all day. What products would you suggest for long lasting style and why?
'Kevin Murphy' session hairspray is fantastic and a must for any style needed to last the day.
What advice can you give to aspiring hairdressers?
To not be afraid to sacrifice your time, commit totally to learning the skills and to not be distracted by anything.
What hair trends / styles are big for Christmas 2014?
Big dressy glamourous hair for Christmas
What do you think the biggest challenge is a hairdressing career?
Still being in the business after 36 years and maintaining the hunger to continue to strive to greater heights.
You can see the full range of images from the 'Opulent Coutoure photoshoot' here
back